Mid-Atlantic Wind – Overcoming the Challenges

Princeton Energy Resources International (PERI) recently completed a study, supported by the US Department of Energy, Wind Powering America Program, Maryland Department of Natural Resources and Chesapeake Bay Foundation, which analyzed barriers to wind energy development in the Mid-Atlantic region along with options for overcoming or mitigating them. The Mid-Atlantic States including Delaware, Maryland, North Carolina and Virginia, have excellent wind energy potential and growing demand for electricity, but only two utility-scale projects have been installed to date. Reasons for this apathetic development of wind resources were analyzed and quantified for four markets. Specific applications are: 1) Appalachian mountain ridgeline sites, 2) on coastal plains and peninsulas, 3) at shallow water sites in Delaware and Chesapeake Bays, Albemarle and Pamlico Sounds, and 4) at deeper water sites off the Atlantic coast. Each market has distinctly different opportunities and challenges. The primary barriers to wind development described in this report can be grouped into four categories; state policy and regulatory issues, wind resource technical uncertainty, economic viability, and public interest in environmental issues. The report concluded that there are no insurmountable barriers to land-based wind energy projects and they could be economically viable today. Likewise potential sites in sheltered shallow waters in regional bays and sounds have been largely overlooked but could be economically viable today. Offshore ocean-based applications face higher costs, technical risks and wind resource uncertainties. Specific actions are described to overcome barriers in each state. These generally relate to expanding research, development and demonstration programs, revisions to state incentive policies, additional wind measurement efforts, transmission system expansion, environmental baseline studies and outreach to private developers and stakeholders, needed to reduce barriers to wind energy development. For PDF of report click here.
75 MW IPP Project – Russia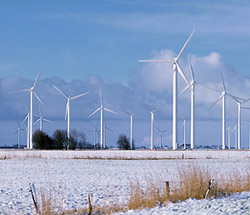 For a Russian project developer and ABB, PERI managed the preparation of a technical and economic feasibility study for a utility-scale wind power plant located in the vicinity of St. Petersburg, Russia. The $1.3 million study was supported by the United States Trade and Development Agency, General Electric, and other commercial participants. The study included: wind measurements and resource analysis, plant layout and preliminary design, power system integration analysis, market research, and an environmental assessment. As part of this study, PERI analyzed the financial feasibility of the project, and identified candidates including major companies in the St. Petersburg area for power off-take under long-term Power Purchase Agreements. PERI also identified available grants, tax credits, and environmental subsidies and developed other forms of incentives that could lower the cost of generating wind power and narrow the tariff gap between the wind and conventional power generation technologies in Russia. In addition, various sources of debt and equity financing were identified. PERI's business and financial cash-flow analysis models were used to produce project proformas that are being used to obtain needed financing. PERI and the team of American and Russian firms have developed a detailed business plan that is now being implemented.
Feasibility Study for the Nigeria: Kiri Dam Hydroelectric Power Plant
PERI's study of hydroelectric installation was to define and conceptualize the best option and size for
installation of hydropower at the Kiri Dam.The study provides a description of the existing plant, hydrology evaluation and physical parameters to consider in implementing hydropower. It also provides an evaluation of the available head and flow for potential power production as well as an assessment of each of the main alternatives. A financial analysis was done and it provides options for ownership/financing structures. Also included in the study was social and environmental impacts with reference to the host country requirements. A lisitng of prospecitve US suppliers for the project was also created. Click here for the final Feasibility Study Report.
Vashon-Maury Island Energy Sustainability Study
For the Institute for Environmental Research and Education, a nonprofit organization with Offices in Washington State, PERI conducted a renewable resource and technology assessment to examine the island's renewable resources, applicable technologies and costs for electric power generation, and for liquid fuel and hydrogen production. Biomass, wind, solar, tidal, and geothermal resources were assessed, and generation/production costs were projected. Production and use of hydrogen for stationary and mobile power generation was also examined.
Armenia - Wind and Solar Energy Development Potential
Under a sub contact to Tetra Tech funded by United States Agency for International Development, PERI engineers are assisting the government of Armenia in evaluation and developing its abundant renewable energy resources in order to reduce its dependence on imported natural gas and aging nuclear and fossil energy power plants. Work included working with local regulators, energy institutes and developers to prepare a detailed wind energy market assessment. Based on our estimate of the total wind energy potential for grid-connected plants in Armenia to be over 1,000 MW though about 500 MW, an annual generation potential of more than 1 billion kWh is currently considered as feasible. These wind plants could generate electricity equal to 17% of current consumption in Armenia. As a result the Government is taking steps to promote renewable energy development in Armenia, having set a target to develop up to 500MW wind energy potential by year 2025. Click here for a copy of the PERI report "Wind Energy in Armenia: Overview of Potential and Development Perspectives." PERI also analyzed and reported that solar energy has excellent potential both for producing electricity and to heat water with solar thermal panels. Our engineers drafted electric power grid interconnection standards for solar electric systems and these were adopted by the Armenian National Standards organization. All reports are located on the Assistance to the Energy Sector of Armenia to Strengthen Energy Security and Regional Integration (ARMESRI) site under Task 2.
Integration of Hydropower with High Penetration of Wind and Biomass
This study examined the high penetration of usable wind and biomass power plants in the Vermont, Green Mountain Power and New England Power Pool service areas. Power system integration analysis addressed technical and economic issues and realistic limits for installing up to 900 hundred megawatts of distributed wind power plants and up to several hundred megawatts of new biomass plants operating in conjunction with existing hydropower plants in the Green Mountain Power, New England Power Pool, and Hydro-Quebec service area. Specific objectives of the study were to evaluate the effects of high penetration levels of renewable energy on the grid of Vermont (and adjoining areas) by 2010, operating in the restructured distributed utility environment, to determine: (1) transmission and distribution grid systems changes needed, (2) grid operation and control issues, (3) ways to minimize increases in the cost of energy to the consumer, (4) potential reductions in regional CO2 emissions, and (5) the incremental cost of renewable energy capacity additions. The study showed the technical and economic benefits of using seasonal variations of wind and hydro resources for mutual support.
Economic Study of BioEnergy Production from Digesters at Dairies in California
From summer 2007 into 2008, under subcontract to SAIC, for the California Energy Commission, PERI analyzed actual and projected energy production at dairy farms in California. Specifically, PERI reviewed nine small dairy digester systems that received grants under the California Dairy Power Production Program (DPPP). After reviewing actual power cases, PERI projected project layout and calculated levelized costs of energy for plants producing no subsidy power and pipeline-quality gas, enhanced environmental quality power, and enhanced environmental quality pipeline-quality gas, as well as investigated various special tax and financial sensitivities.
Economics of Wind Power Projects for Electric Cooperatives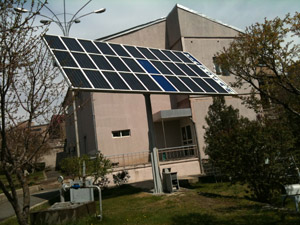 For the National Rural Electric Cooperative Association (NRECA), current, PERI provided unbiased information on the real cost of this generation source. In addition, since wind energy can provide added value to consumers in the form of environmental benefits ("green" attributes), PERI developed information for electric cooperatives to help them understand if and how so-called "green power" programs can work for them, and what the experience of other utilities, public and private, has been to date. Finally, because there are significant differences and restrictions in the use, availability, and applicability of incentives among various types of utilities and independent power producers, PERI identified and quantified the opportunities available specifically for electric cooperatives to utilize such incentives. Specifically, PERI interpreted the limitations and value of the incentives as they apply to electric cooperatives. In addition, PERI explored the use of project cashflows to demonstrate the financial impact of various incentives.
Distributed Wind Assessment
PERI prepared a report for the U.S. Department of Energy-sponsored National Wind Coordinating Council to address issues associated with the adoption of distributed wind power. Key task activities performed included collection and analysis of data on domestic and European wind energy experience; analysis of distributed wind project costs and interconnection requirements; analysis of potential "distributed utility" benefits; evaluation of the European distributed wind market; critical review of infrastructure and industry needs in U.S.; detailed analysis of economic impacts of distributed wind in the U.S.; and preparation of a final report.
Renewable Energy Technology Characterization
PERI was commissioned by the Electric Power Research Institute (EPRI) with funding from the U.S. Department of Energy, to analyze and assess the likely cost factors and performance improvements projected through 2030 for wind, biomass, photovoltaic, solar thermal and geothermal energy technologies. The study involved PERI economic and financing models adapted to allow technology comparisons. PERI focused on wind technology used for large, domestic windfarm applications (horizontal axis wind turbines within a central station environment). In addition to characterizing the advances made in the design, siting, installation, operation, and maintenance of turbines (e.g., on a single-unit level; on an entire wind farm), PERI also addressed transmission requirements coupled with environmental impacts and resultant mitigation schemes.
Renewable Energy Systems and Energy Efficiency Benefits Model
PERI developed a benefits analysis framework, for the United States Department of Agriculture (USDA), to quantify the expected contributions of the Renewable Energy Systems and Energy Efficiency Improvements Program, which was authorized by Section 9006 of the 2002 Farm Bill. In order to meet their benefits reporting requirements, PERI developed the Renewable Energy Systems and Energy Efficiency Improvements Benefits Model (BENMOD) for the benefits metrics calculations. PERI also helped determine which metrics to include in the benefits reporting, formed a consensus on the assumptions and conversion factors used to calculate these benefits, and prepared the report to document the methodology used to arrive at the expected benefits of the program. Three classifications of benefits are calculated under this framework: economic, environmental, and energy security metrics.
Supplying Advanced Materials and Components for Wind Power Systems
PERI prepared a study on manufacturing and materials to address the need for high volume, low cost components for wind turbines for DOE's Office of Industrial Technologies. This was presented by Daniel Ancona as the key note address at a technology forum for technologists and executives from aluminum, steel, chemicals, fiberglass, plastics, and metal forming and casting industries with wind turbine manufactures, to identify useful new materials and manufacturing processes for markets through 2010.
Analytic Services for the U.S. DOE, Office of Power Technologies (OPT)
PERI is assisting the National Renewable Energy Laboratory (NREL) in its analytical support to the U.S. DOE's Renewable Energy R&D Program as the primary lead contractor for performance measurements, analysis, and technology characterization and assessment. The focus of PERI's work is on evaluation of program benefits, development of technology data, and modeling of market penetration through the Renewable Energy Technologies Emerging Market (RETEM) model. Technology data have also been used in working with EIA and NEMS modeling for the Annual Energy Outlook. PERI utilizes a benefits analysis and tracking and spreadsheet that it created to catalogue all input data and calculate benefits metrics for the OPT GPRA submission.
Power Technologies Data Book
For the U.S. Department of Energy Office of Power Technologies (Through Subcontract to NREL), PERI led the effort to develop comprehensive technology profiles of renewable supply-side electric technologies, including wind, biopower, photovoltaics, advanced hydro power, concentrating solar power, geothermal, hydrogen, and solar buildings. The profiles included technology descriptions, current and projected trends for cost, performance, and market status.